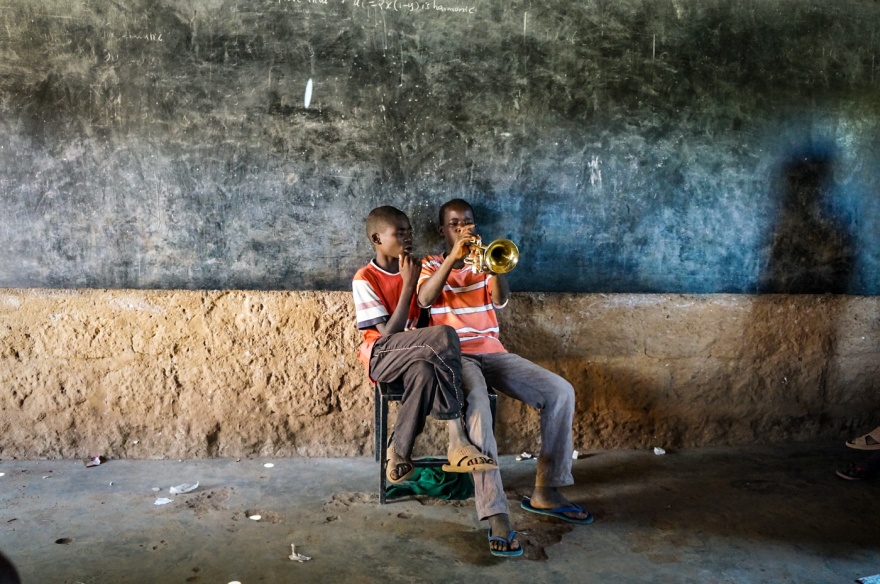 We support Pendo Amani's excellent programs for youth empowerment and social change!

Kenyaföreningen's primary goal is to support our partner Pendo Amani youth Organization. In order to do this we fundraise through our secondhand-shop, but we also receive private donations as well as gifts from companies and other sponsors.
All proceeds go to support the programs in Music, Dance, Football league, Community Library and Study Centre, Leadership Development and Zinduka Girls Empowerment Forum, which you can read about below.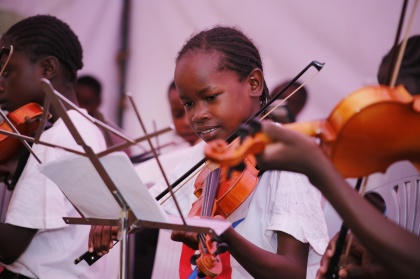 "Dafina" Music program
The Dafina music program is enspired by El Sistema – a model that uses music as a tool for social and human development, to fight poverty and inspire to new ways of life.
"It's not just about music, but rather to grow as a human being and become a more sensible citizen – about building democracy!" said Gustavo Dudamel, one of the world's best conductor, raised with El Sistema in Venezuela.

We have seen that classical music is educational and attractive to children and young people, and through music we inspire their creativity. Dafina El Sistema Music Program is a free music education program made possible through collaboration with Åtvidaberg's Kenyaförening, Martin Fröst Foundation, Dream Orchestra and Culture School in Motala. The program provides students with structured afterschool orchestral instrumental training and choir instruction. The program creates a cooperative, fun, a nurturing environment for the children and young people to explore their creativity as individuals and as a small ensemble. Quarterly we organize recitals for the students in their small ensembles as they master the skills and techniques of musical playing in addition to developing self – motivation, leadership and personal growth.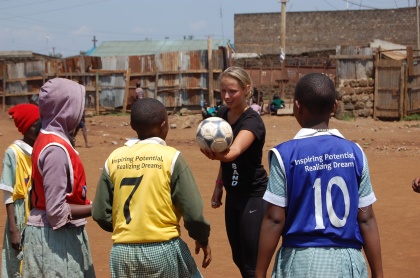 Football League
Through the youth football league, we mobilize and inspire young peoples' potential by meeting them in their turf and giving them skills to enable them address social challenges affecting them. The year-round football league enables young people to learn from each other and acquire important life values.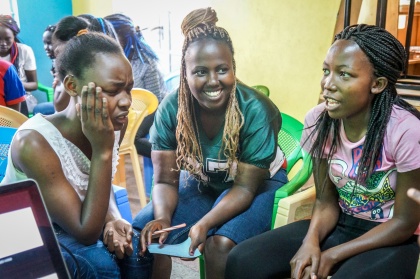 Leadership Development
The Leadership Development (LEAD) aims at equipping young people with life skills, relevant labor market skills and small business development skills. The program is delivered through holiday media and computer training, leadership workshops, seminars on entrepreneurship as well as career guidance. The young people attending the program also receive mentorship in job preparedness.
Community Library
The main objective of the Community Library is to provide learning materials that meet the educational, informational, cultural and recreational needs of students in Juja and the surrounding areas. The library is free and its open daily from 9:30am to 6:00pm allowing students to access curriculum books and complete their homework and serves more than 100 students daily. The library is equipped with curriculum books, story books, table games and other learning materials that enables children and youth to express their creativity, stimulate their imagination and promote good citizenship.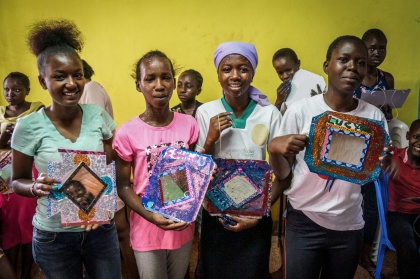 "Zinduka" Girl's Empowerment Program
Zinduka (translated as 'awaken' in English) is an awareness and learning program for girls and young women in Juja. The program enables them to gain confidence, develop leadership skills, enhance social and life skills, promotes healthy lifestyles and a positive attitude towards life. The program empowers young girls and contribute to sustainable development goal of gender equality by providing opportunities for learning about human rights and peace-building as well as career choices. We believe that with added skills and safe space to learn, vulnerable girls and young women have a brighter future ahead.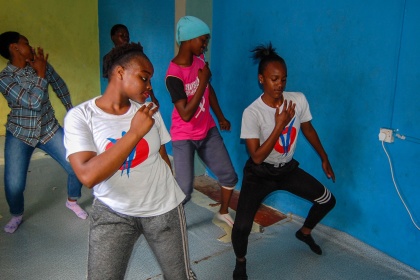 Dance
Our mission is to impact the lives of young people through dance. We provide weekly dance sessions revolving around, contemporary, hip hop, African traditional dances and street dance culture. Students learn to develop life skills, collaborate, think creatively and build friendships. We also use dance to create awareness and address issues on Human Rights, Global Sustainable Development Goals, Gender Based Violence and Conflict Resolution. We feel art can be a part of community strengthening and vehicle giving young people a sense of hope.